FREE District Columbia DMV Permit Practice Test Three 2018 | DC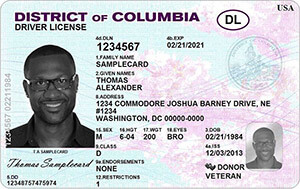 Comfort, mobility, independence, style – these are just some of the reasons why so many people choose to drive a car. Of course, you need a driver license to do it legally. One of the first steps in getting a license is getting ready for your DC DMV Permit Test. We're here to help you with it – at no cost. That's right, we do not charge you money to try our third practice permit test; in fact, you won't even have to register. What's more, it follows the same structure as the real DMV test, with similar content based on the new
2018 official District of Columbia Department of Motor Vehicles Driver Manual
. It's always accessible from any computer with Internet access. So why wait? Try it now! For each of the 40 multiple-choice questions on the test, you'll need to select the right answer out of the four offered. Don't rush to click an answer; you can think it over and consult our helpful hint. Look at the progress bar on the left side of the page. It works like a traffic light: Green means "That's right, go ahead," and red means "Stop, there's a problem." If you see the red color on the bar, try reading the explanation of your mistake; it may help in the future. Do the test as many times as you wish to feel confident. If you like our DC permit practice test, why not spread the word – click the "Like" button above and/or tell your friends on Twitter about it. We wish you the best of luck!
We're preparing your test...
Your Progress
8 mistakes allowed to pass
Passing score required at the DC DMV: 80%
Challenge Bank

0
Back to the DC menu
District of Columbia DMV Permit Test Fact Sheet
| | |
| --- | --- |
| How many questions: | 30 |
| How many correct answers to pass: | 24 |
| Passing score: | 80% |
| Minimum age to apply: | 16 |
DC DMV Driver's Handbook
View the most recent (2018) official DC DMV Driver's License Handbook.
Explore
Show comments