FREE District Columbia DMV Permit Practice Test Four 2019 | DC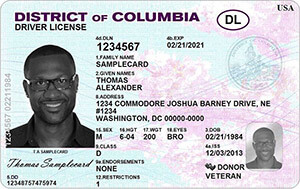 Are the pressures of everyday life getting to you? One way to cope with stress is to make your life outside the home more comfortable – and that means, first of all, driving your own car. Well, you need a driver license to do it. But what if you don't have one? Then here is our fourth DC permit practice test for you to try. Taking this test won't automatically get you a license, but it will give you the practice you need to pass the real DMV Permit Test. Our permit practice test consists of 40 multiple-choice questions based on the new 2019 official
District of Columbia Department of Motor Vehicles Driving Manual
, so you'll be as close to the real-life test as possible – except that you'll be able to do our test in the comfort of your home. Let's start now! Oh, you're hesitating over the cost. Relax, there isn't any – it's completely free, and no registration is required. Convinced? OK, let's go! Each question on the test has four choices; just choose the best one. Sounds pretty easy, but it can be rather tricky sometimes. That's why we have prepared some hints for you to make better guesses when you're in doubt. The progress bar on the left side of the page will guide you by flashing green for all your correct answers and red for your incorrect ones. All your mistakes will be explained; please read carefully to avoid the same problems in the future. Retake the test as often as you wish until you're satisfied with the result. Inform your friends about our DC permit practice test – tell them on Twitter or just hit the "Like" button above. We wish you success. Start making your life more comfortable!
Or get unlimited access to all DC tests with

Premium
8 mistakes allowed to pass
Passing score required at the DC DMV: 80%
We're preparing your test...
Report a problem
District of Columbia DMV Permit Test Fact Sheet
| | |
| --- | --- |
| How many questions: | 30 |
| How many correct answers to pass: | 24 |
| Passing score: | 80% |
| Minimum age to apply for Class D Learner Permit | 16 |
DC DMV Driver's Handbook
View the most recent (2019) official DC DMV Driver's License Handbook.
Explore
Show comments